HAMBURG AIRPORT (HAM) INFORMATION
Origin
Airline
Flight no.
Scheduled
Est./Actual
Status
No flight arrivals were found at Hamburg Airport.
Destination
Airline
Flight no.
Scheduled
Est./Actual
Status
No flight departures were found at Hamburg Airport.
Car Hire at Hamburg Airport
UNBEATABLE VALUE CAR RENTAL
Free Amendments | Free Cancellations | No Card Fees



Hamburg Airport - All Information on Hamburg Airport (HAM) Hamburg Airport
Hamburg Airport, Flughafenstrasse 1 - 3, 22335 Hamburg, Germany
phone +49 40 50750
phone+49 40 5075 3983 (Lost + Found)
emailinfo@ham.airport.de
emailinfo@ham.airport.de (Lost+Found)
call_end+49 (40) 50 75-12 34 (fax)
Facts and History about Hamburg Airport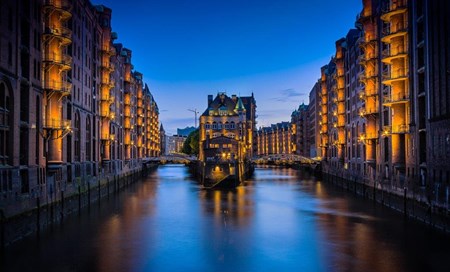 Out of the 16 airports in Germany, Hamburg Airport is rated number 5 with regard to the number of passengers that fly through the airport on yearly basis. Though the airport is one of the oldest airports in the world that is still functional, the airport has witnessed great transformations in recent times with new terminal buildings, runways, improved parking facilities, new hotels and conference and shopping facilities second to none.
Hamburg Airport provides domestic and international flights to some 17 million passengers every year. There are direct flights to about thirty different locations across the globe. There are flights to various cities in Germany like Berlin, Dresden, Munich and Frankfurt; flights to major cities in Europe are also available from Hamburg Airport. Domestic and international flights have their different terminals.
Hamburg Airport has two terminals, namely Terminal 1 and Terminal 2. Terminal 1 was built in 2005 while Terminal 2 was built in 1993. There isn't much difference between the two terminals in terms of designs and size. Built on an eco-friendly principle, there are several energy and water saving features incorporated in the terminals' architecture and design.
There are a number of car rental companies at Hamburg Airport. Whilst you can rent a car upon arrival at the airport, it is generally recommended to book your vehicle in advance using the form above to reduce waiting times on arrival.
Hamburg Airport is located 5 miles or 8 km north of the city center. Getting to the city or coming from the city center to the airport is not difficult following the sign-posted route. Visitors can get to the airport from exit 23 of the A7 autobahn (expressway). The airport is sited between R2 and R3 ring roads on the Bundesstrasse B433. However, if visitors do not wish to drive to the airport using their own car, there are various options of transportation available. Taxi services are available just outside of the terminals. There are also HVV bus services to various locations in the city. For passengers wishing to use the train, the S-Bahn route S1 connects the airport to the central train station in Hamburg's city center (Hauptbahnhof).
There are 6 car parks offering parking services in the airport. Out of these 6 car parks, 4 are not far from the terminals and they provide both long and short term parking services. The remaining two are not close to the airport but they provide cheaper services and are good for leisure travelers. Car owners can also opt for valet parking. Passengers can book parking spaces via Hamburg Airport's website. There is also an intelligent indicator system that leads motorists to the closest available parking lot, saving time looking for spaces.
There are facilities for disabled passengers like disabled toilets and wheelchairs. Such services as wheelchair push, door-to-door transfer and assistance are provided for disabled passenger as a matter of course. They also have their own clearly marked parking spaces. It is advisable that disabled passengers inform the airline they are using and also the information desk of the airport located at the two terminals prior to travelling, so that they can get assistance, should they need it.
Getting hotel accommodation is not difficult. There are hotels at the airport and also outside the airport where passengers will find many hotels and guesthouses catering for every taste and budget. Passengers can make reservations from the airport office.
In addition there are other facilities such as pharmacy, bars and restaurants, banks, ATM's, bureau de change, pay telephones and many branded shops. Hamburg Airport prides itself that it meets the expectation of every traveler.
Hamburg offers many tourist attractions to visitors. The port is the largest in Europe and harbour tours are very popular. The Alster River traverses the city center and cruises on the river are responsible for Hamburg having the reputation of being the Venice of the North.
The Airport IATA 3 Letter code for Hamburg Airport is HAM. Hamburg Airport is also officially known as Hamburg Airport. The GPS location for Hamburg Airport is – 53.63333, 9.98333 which you can enter into your Smartphone/I phone to enable you to find your way to and from Hamburg Airport.
Arrivals at Departures at Hamburg Airport
Hotels near Hamburg Airport
There are a number of hotels to suit all budgets and requirements at or near Hamburg Airport.
Parking at Hamburg Airport
See options for parking services at Hamburg Airport.
Additional Services and Amenities at Hamburg Airport
At Hamburg Airport you will find the usual array of bars and restaurants, airport lounges and shops.
Things to do in Hamburg
There are a number of activities to suit all ages and interests in the region - see a selection of tourist activities in Hamburg, Germany.
Services at Hamburg Airport
Useful Information about Hamburg Airport